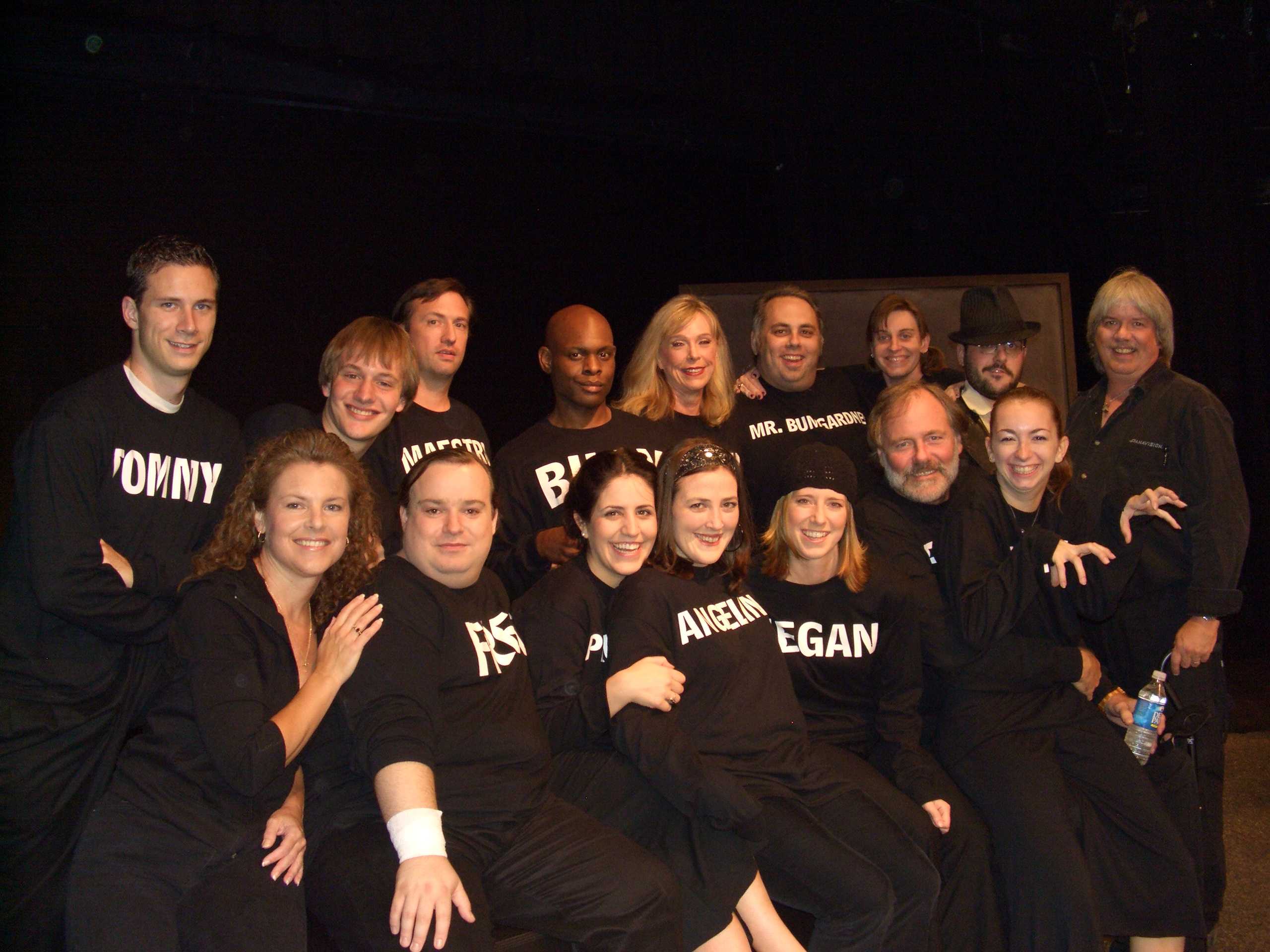 Cast Bios
JAMES LANE (Tommy) has most recently appeared in the US Premier Cast of JACK - THE MUSICAL at the NC Blumenthal Performing Arts Center. He has also played in THE DEVIL AND DANIEL WEBSTER, ANNIE, THE MANNHEIM STEAMROLLER CHRISTMAS SPECTACULAR, and also in educational excerpts from PHANTOM OF THE OPERA, LES MISERABLES, WEST SIDE STORY and JOSEPH AND THE AMAZING TECHNICOLOR DREAMCOAT. James has also performed as a vocal soloist at Walt Disney World, the Newberry Opera House, and with the 108th Div. Army Reserve Band. Although a graduate in architecture, James is moving to New York this fall to pursue a professional career in music and theater. Contact: archbarijj@yahoo.com

BROOKE BOLING (Angelina) is a 2003 graduate of Appalachian State University with a Bachelors of Science in Music Industry Studies. She was last seen as Mary Jane Kelly in the US premiere of JACK - THE MUSICAL staged by Actor's Scene Unseen. She starred in DAISY, portrayed Sarah in GUYS AND DOLLS, Polly in CRAZY FOR YOU, and Ida in DIE FLEDERMAUS. Brooke has appeared in the ensemble of SISTER ANGELICA at Appalachian State University, along with THE SOUND OF MUSIC. She has also recently appeared in JESUS CHRIST SUPERSTAR at CPCC theatre. She has appeared in state and national level honors choruses. Brooke is also a folk singer/ songwriter.

JAMES LEE WALKER II (Billy) performs improv every weekend with the Charlotte Comedy Theater. He performed for many years in Beaufort South Carolina as a sketch performer for churches and community events. He performed in musicals and plays at The John J. Mcvey Performing Arts Center in roles such as: Sir Evelyn Oakley in ANYTHING GOES, The Chairman in THE MYSTERY OF EDWIN DROOD (after which his portrayal was complimented on by members of the Dickens Society), and Sydney Redlich in BELL BOOK AND CANDLE. James is a singer/ songwriter who has previously performed under the stage name Daverse at: The Urban West Fest, and The Coca-Cola Summer Jam. He often performs in local jam bands, and hosts an open mic night every Sunday at the Charlotte Comedy Theater.

HEATHER LEANNA (Megan) has been in numerous productions throughout Wisconsin and California. Her favorites including PIPPIN, THE LION, THE WITCH AND THE WARDROBE, ASSASSINS, and ROMEO AND JULIET. Her first appearance here in Charlotte was as Trilby in ORANGE LEMON EGG CANARY, which was an amazing experience that lead to an MTA nomination. Heather is thrilled to be involved with such an extremely fun and talented cast. Heather thanks Mike Reardon for the opportunity to be a part of something so wonderful. She also thanks her family for always supporting her. Love ya!

JOHN W. PRICE (Mr. Tucker) has performed on many stages in the Charlotte area, Afro-Am, CT, The Rep, SPAC, CAST, Off Tryon to name a few. John currently appears in NC&SC with The Charlotte Comesolveit Players performing Dinner Theatre. The joy and challenges of taking the written word off the page and bringing it to an audience is still a major thrill in John's life and his involvement with CLIMB MY MOUNTAIN is no exception. With gratitude to God and Mike Reardon for this opportunity. The rapture continues...

AMBER KINCAID (Temptation) is pursuing a BA in Dance but is already a professional dancer at the age of twenty. She has been dancing for fifteen years and acting for seven. She was a featured hair model and dancer for Jason Thomas at Goldwell. Amber's most recent musical role was in BEAUTY AND THE BEAST with Charlotte Summer Theatre. Amber works at To the Pointe Dance Studio in Salisbury, teaching children of all ages. She is very excited about being a part of CLIMB MY MOUNTAIN.

RED DAVIES (Fred) is a computer programmer who came to theater two and a half years ago when he became involved with Charlotte Comedy Theater's improv cast. He has workshopped and performed with the group in festivals in LA and Atlanta. Red was recently seen in THE KING AND I with the Uwharrie Players in Albemarle. Originally from Wales, he lived outside London with his wife Tracy for several years before moving to her native North Carolina three years ago. Red was in the original cast for the staged reading of CLIMB MY MOUNTAIN at CAST earlier this year, and is happy to be a part of this production.

DARREN MOOREHEAD (Einstein) has appeared in various musicals in the Charlotte area including roles as John in JESUS CHRIST SUPERSTAR, Amos Hart in CHICAGO and as Mister Mushnik in LITTLE SHOP OF HORRORS. He is currently attending The University of North Carolina at Charlotte, with a double major in theater and computer science. He is very proud to be in this production, and wants to thank Mike for the opportunity. He also wants to thank his parents and friends for their support throughout his life. Without their teachings, he would not be the person he is today. For more information about Darren, visit his website, www.DarrenMoorehead.com

NADEYA WARD (Prudence) is very excited to work on her third Charlotte original since her move here last year, with CLIMB MY MOUNTAIN following A DRESS TO GO OUT IN and BE A GOOD SPORT, both with Theatre Charlotte. Nadeya, being from Virginia and having studied in New York City, has enjoyed meeting and working with people in the area. Commercial credits include: "Prime Time Rentals" and "My TV 12," and on film in DON'T TURN AROUND. She gives special thanks to Samia and Jason Ward and Dave Billingsley.

TOMMY ALLEN TAYLOR (Mr. Bumgardner) Stage: TEN LITTLE INDIANS (Thomas Rodgers), FOOTLOSE (Coach Dunbar), JESUS CHRIST SUPERSTAR (Mark/Herod's Dancer) CPCC, DAMN YANKEES (Sohovik) Theatre Charlotte, PORGY & BESS (The Coroner) Opera Carolina; COUNTRY SONGS (Hovis Deloach), GYPSY (Cigar), CALAMITY JANE (Doc), PAJAMA GAME (Charlie) Old Courthouse Theatre, THE WHO'S TOMMY (Priest/Mr. Simpson) Piedmont Players, OKLAHOMA (Slim/Dream Jud), LIL ABNER (Senator Phogbound) Uwharrie Players. Film: SAM'S KITCHEN (Sam) Khalki Productions, GATE KEEPER (Dr. X) Wake Drama; STANLEY (Randall), DISCLOSURE (Dr. Murphy) Group 101-Charlotte, UNCOVERED FEAR (Officer Matthews) MAV Productions, PROOF POSITIVE (Dan) Nelson Mays Communications. Founder: North Carolina Actors. Contact Tommy at Talonrock@aol.com

HUGH LOOMIS (Father) has been performing in Charlotte since 1993 and has been seen mostly in non-musicals, the latest being two Sam Sheppard plays: TRUE WEST with Lagrange Point Productions as Saul at Theatre Charlotte and as Henry in Carolina Actors Studio Theatre's (CAST) production of THE LATE HENRY MOSS. It is his pleasure to be working in the production of this touching story, CLIMB MY MOUNTAIN.

BOGEY WINGFIELD (Mother) has built a repertoire including: Mrs. Barker in Edward Albee's, AMERICAN DREAM (CPCC), Aida in OVER THE RIVER AND THROUGH THE WOODS (Rock Hill Community Theater), Dr. June Heidleburg in MURDER IS BAD, BUT MONDAY CAN KILL YOU (Clover Community Theater), Betty in FUNNY MONEY, Mrs. Chauvenet in HARVEY (CPCC) and a dinner theatre setting in ON STAGE FOR MURDER (Rock Hill Community Theater). Bogey has five children and her only daughter is a musical theater actor who recently performed in JESUS CHRIST SUPERSTAR (CPCC) and THE WIZARD OF OZ (CPCC). Bogey would like to thank Mike Reardon for the opportunity to paly the role of the Mother and Randy Jones for his patience!

GREG PAROFF (Director) Directing credits include: LA Premier of Neil LaBute's AUTOBAHN, world premiers of PRIVILEGED INFORMATION, and GERSHWIN! GERSHWIN! Also TALK RADIO, HAPPY BIRTHDAY WANDA JUNE, THE DINNER PARTY, THE WOODS, SEXUAL PERVERSITY IN CHICAGO & THE DUCK VARIATIONS and many other shorts and one-acts. Workshop of THE THREE SISTERS (Atlantic NYC). In Charlotte: A DRESS TO GO OUT IN (9x9x9 @Actors' Theater). Artistic Director of the60gRit Theater Co. (Santa Cruz, CA) and Artistic Associate of Level 7 West Theater (Los Angeles, CA). He has taught at UCLA, John Robert Powers, Cabrillo College, and privately. Contact: GSR17@aol.com. INDN.

MIKE REARDON (Playwright, Producer, Composer, Lyricist) while raised in the Northeast has been a resident of the Charlotte area for the past 10 years. After discovering that his original family surname of O'Riordan meant "Royal Bard", Mike found the missing link explaining his fascination with the written and sung word. And along with a 1964 "awakening" while watching Dick Van Dyke in Mary Poppins, he was hooked. Mike has performed in productions of HELLO DOLLY, WEST SIDE STORY, and in a recent Theatre Charlotte 9x9 play, is a published poet and has fronted, The Blenders, a rock band as lead singer and rhythm guitarist. He holds a BA in Psychology from St. Michael's College, Colchester, VT and an MBA from Bentley College, Waltham, MA. CLIMB MY MOUNTAIN has been evolving for some 30 years and Mike is thrilled to present it to the public here in Charlotte. He thanks the incredible cast and crew that has more heart and talent than ever could be imagined (that Kitty Feeling for you all!) and Tommy Wrinn (the music says it all you Social Deviate!)

TOMMY WRINN (Composer, Lyricist) learned to play piano as a child after a few lessons from his Mom, but mostly self-taught, he began writing songs in the early 1970's. Tommy was born, raised and still lives in Middletown, CT with his wife Michelle and son Tommy Raphael. He attended Xavier High School (with Mike Reardon) where he performed as Action in West Side Story and was a star athlete, captaining the football and track teams. He then attended Choate for a year (where he dated a soon to be famous actress) before receiving a football scholarship to Boston University. He thanks Mike Reardon for his diligence and belief in the music for all these years, and the cast and crew for all the time and hard work they've put in to bring this project to fruition.

TRACY DAVIES (Assistant Director) received her BA in Theater from ASU and MA in Anthropology from the University of London. She has acted, taught, and directed across NC and parts of England. Favorite past productions include GODSPELL, MAN OF LA MANCHA, and THE VAGINA MONOLOGUES. Tracy is a cast performer and coach with Charlotte Comedy Theater, workshopping and performing in improv festivals in LA and Atlanta. She directed ONE FLEW OVER THE CUCKOO'S NEST for the Uwharrie Players and returns to direct BLESSED ASSURANCE this fall. Tracy is glad to have worked with the CLIMB MY MOUNTAIN cast and crew (including her husband). Red).

RANDY JONES (Music Director) began playing the keyboard at age four and started piano lessons at age nine. He completed undergraduate studies at Oberlin College, Winthrop University and UNC Charlotte and is currently a graduate student at the North Carolina School of the Arts. Mr. Jones has performed solo recitals at numerous colleges, churches and schools. In addition to graduate school, Mr. Jones maintains a large private studio, accompanies the North Mecklenburg Community Chorus and arranges and accompanies for local children's operas through a grant from Opera Carolina. Most recently he has transcribed and arranged the music for the new musical CLIMB MY MOUNTAIN by Mike Reardon and Tommy Wrinn.

SARAH LEWIS (Stage Manager) is fresh from stage managing the US premier of JACK - THE MUSICAL. Sarah is once again behind the scenes of a new Charlotte musical. She loves playing in front of the footlights and most recently appeared in I'M NOT RAPPORT at Theatre Charlotte. Other favorite roles include Sarah in SPINNING INTO BUTTER, Elaine in ARSENIC AND OLD LACE, Aunt Kate in JAMES JOYCE'S - THE DEAD and Janie in NOT NOW, DARLING. She has worked with companies in Charlotte, Davidson, Concord, Salisbury and Belmont Abbey. What a great cast to work with!

ADYANA DE LA TORRE (Choreographer) holds her Bachelor's degree in Musical Theater from Lees-McRae College. Adyana recently played Dr. Alejandra Carillo in Truth Function's ¡A SU SALUD!, an instructional Spanish film in Chapel Hill. On the stage, she was last seen playing the role of Sam in TORCHES produced by Barebones Theatre Group. Prior to that she played Egypt in ORANGE LEMON EGG CANARY produced by Carolina Actors Studio Theatre. Other credits include: THE LION, THE WITCH AND THE WARDROBE, WEST SIDE STORY, OMEGA and JOSEPH AND THE AMAZING TECHNICOLOR DREAMCOAT. Adyana has also directed and choreographed many children's theatre productions including OZ!, WONDERLAND, GODSPELL, ANNIE, HANSEL AND GRETEL and A LITTLE PRINCESS. She is currently choreographing and performing with Swerve, an urban dance group. Adyana is a working actor in theater, TV and film, a choreographer and dancer. When she is not on stage or in front of the camera, she is at the gym either working out, teaching a class, or training a client.
Copyright © 2002-2007 by Michael Reardon and Thomas Wrinn. All Rights Reserved. Any use of materials on this Web site, including reproduction, modification, distribution or republication, without the prior written consent of Michael Reardon and Thomas Wrinn, is strictly prohibited.